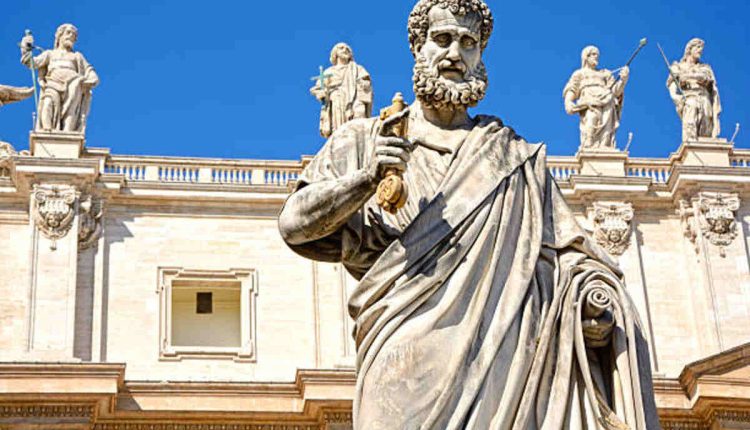 Saint Peter and Paul Cemetery
Saint Peter and Paul, two figures who history has kept separate yet who shared complementary values, dedicated themselves to revitalizing Christianity.
Miller said StoneMor has received only five complaints since taking on management of 13 archdiocese cemeteries in May, but that doesn't mean the graveyard doesn't present its challenges.
Location
Saint Peter and Paul Cemetery is located on West Sproul Road in Springfield, Pennsylvania, and is owned and maintained by the Roman Catholic Diocese of Altoona-Blair County. As one of the largest and oldest cemeteries in its area, it has become one of Pennsylvania's registered National Historic Landmarks.
The cemetery offers multiple burial options, from traditional ground burial and mausoleum entombment, cremation niches for those who prefer that route, pre-need planning to help families plan for future burial needs, as well as pre-need planning so arrangements can be made ahead of time.
St. Peter and Paul Church was established as a parish for French Canadian immigrants living in Lewiston in search of work at local mills. At its core were spiritual, social, recreational, and educational needs that the church fulfilled for these French Canadian families as a hub of community life where faith could be celebrated while working as part of one large family unit.
St. Peter's purchased land at the corner of Prince and Mott Streets to expand the churchyard on Barclay Street as soon as it became too crowded, thus also permitting it to relocate into more extensive facilities.
In 2000, the cemetery received state historic designation and became officially recognized as a historically black cemetery – an incredible accomplishment as historically black cemeteries are often ignored, and this recognition raised awareness about their preservation for future generations.
Satori Days, community stabilization program manager of Alachua County, attended the ceremony with great pleasure and was glad to see a plaque commemorating their presence there forever. She noted how she has many friends and relatives buried there who she wants to be remembered forever.
Saints Peter and Paul are located near Lakemont and Greenwood hamlets and approximately 41 miles west-southwest of Altoona and 70 miles east of Pittsburgh via Amtrak service from Johnstown Station, with other notable points of interest including Johnstown Flood Museum and Sargent's Stadium at The Point nearby.
Directions
St Peter and Paul Cemetery (SPPC) offers various burial options that meet the needs of individuals of all kinds, such as traditional ground burial, mausoleum entombment, and scattered ashes in designated areas. Furthermore, this facility also provides pre-need planning so families can make arrangements prior to needing funeral services.
SPPC Cemetery has been open and operating for more than 100 years and still offers space for burials today. SPPC is a member of the National Association of Cemeteries and strives to provide families with superior service.
SPPC serves individuals of all faiths and cultures in Williamsville, New York. Its peaceful setting offers visitors a serene space to pay their respects, with many family heirlooms housed there for visitors to view. Furthermore, there are various services provided at SPPC that assist families during difficult times, like grief counseling and monument repair services.
SPPC was initially established as a Roman Catholic cemetery; however, it is now independent of any church affiliation and accepts all burials or cremains with many years of history behind it and meticulous care taken to maintain beautiful gardens of flowers, trees, and shrubs.
Its distinctive architecture stands it out from other churches in the area and makes it a must-see attraction. Though its unconventional interpretation of religion might offend hyperconservatives, those searching for deeper meaning in rituals will appreciate this church.
Church has an active and involved parish that members of its local community will support. Their outreach programs and ecumenical services play an essential role in meeting all constituent needs, and we take great pride in meeting those.
Church records dating back to the initial days of cemetery operations are accessible for research. Their genealogy and local history department is currently working towards digitizing them so they are easier to access for families.
Hours
Ss. Peter and Paul Catholic Church founded its cemetery in 1846 before turning it over to the Diocese of Joliet in 1982 and continuing its rich traditions of faith and Catholic values. St. Peter Cemetery welcomes families of its parish as well as surrounding communities to visit, while columbaria niches can accommodate two standard urns for cremations.
This business has yet to enable Yelp comments; if they are the owner, please head to your settings page and turn them on. Your trust is our number one concern, so businesses cannot pay to alter or delete reviews; for more details, click here. Ever Loved? An existing Profile Manager has not claimed this listing, so it is eligible for featured listings on our website.
Contact Us
If you have any inquiries or are concerned, do not hesitate to reach out directly. They can be reached via telephone at (716) 733-3825, and their website offers more information about pre-need planning at the cemetery. St Peter and Paul Cemetery is a 13-acre, historic cemetery located at 9412 Reading Rd in Reading, Ohio, that was founded as a Roman Catholic burial ground and still serves as an active burial ground today. You can check what others are saying on Facebook as well. St. Peter and Paul Cemetery Association operates this cemetery, offering various burial options such as traditional ground burial, mausoleum entombment, and scattering of ashes. Annual sales total approximately USD 500,000, with six people employed as staff.